"Do I Still Need a Photography Website in 2019? - PetaPixel" plus 1 more
---
Do I Still Need a Photography Website in 2019? - PetaPixel
Posted: 13 Aug 2019 07:40 AM PDT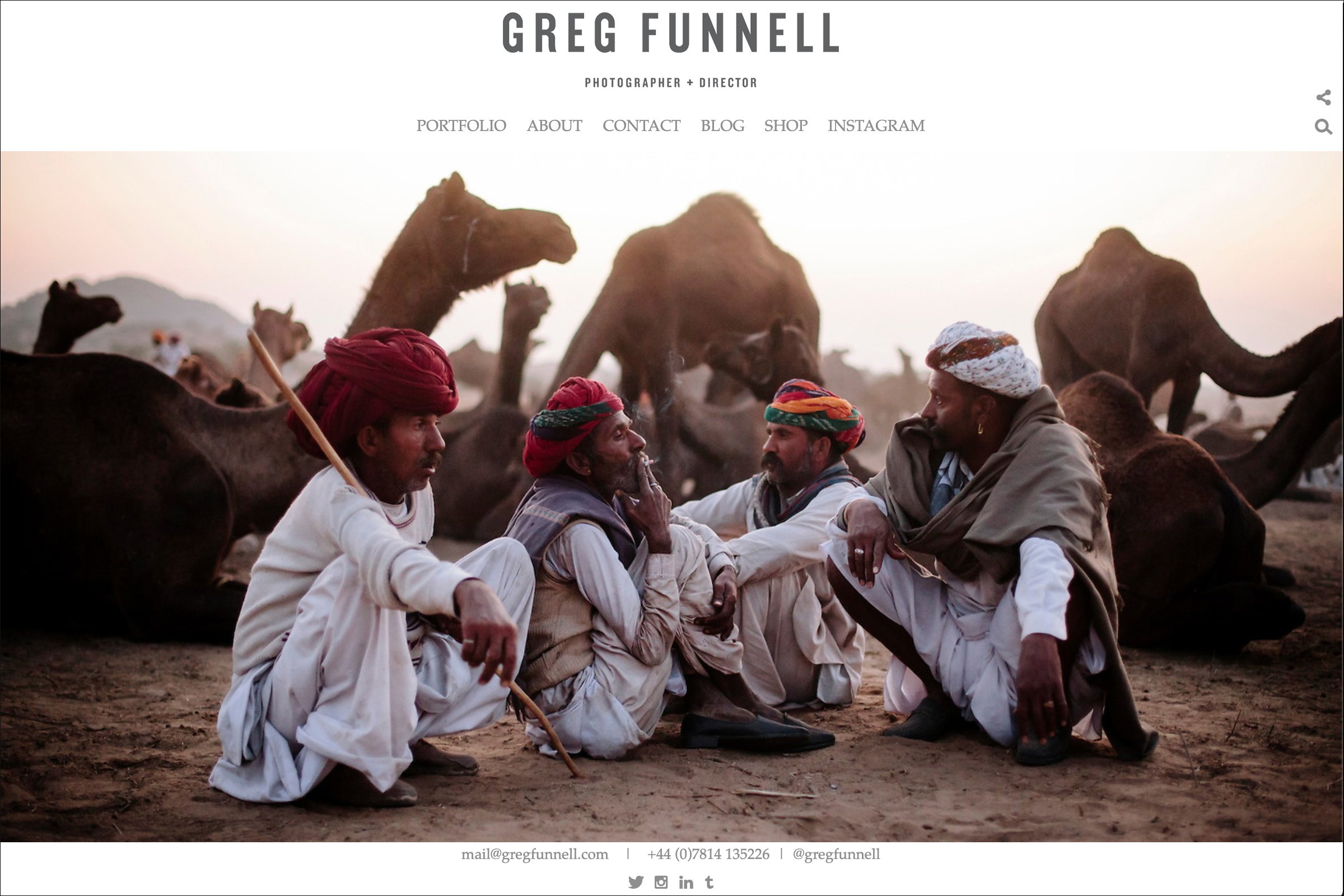 Before the rise of social media and the ubiquity of apps like Instagram, photographers established and flexed their brands through their personal website and blog. The photographer website supplanted the printed portfolio, for the most part, offering photographers a way to showcase their work with a remote audience of photo editors, customers, and fans.
As Facebook took over our lives in the early 2010s, we encouraged photographers to set up business pages. "Separate your brand from your personal profile!" was our rallying cry. But a few algorithmic changes later, photographers began to understand they were beholden to Facebook, and couldn't reliably control whether their followers saw their updates without paying for the privilege.
Instagram provided a few years of respite with a serialized newsfeed (e.g. newest content at the top), and photographers chased another virtual goldrush. Instagram's discovery tools were non-existent in their first few years, and manually promoted photographers were able to amass tremendous followings. But after Facebook acquired the property and influencers came to dominate the ecosystem, photographers were once again left scratching their heads.
Rare is the professional photographer who can "just take pictures." The landscape has become much too competitive while the barriers to entry are non-existent. Savvy marketing has propelled no-name photographers into social media stars. And while they might not be getting rich, they've certainly diversified their income streams with a variety of workshops, Lightroom presets, ad revenue, and even the occasional photo!
That is to say that it's impossible to survive as a pro photographer without a marketing plan – identifying both a target audience as well as marketing activities specific to that audience. There's no point in growing a social media presence if your bread and butter is high-end jewelry photography because your customers aren't going to find you there. Similarly, there's point in assembling a high-end portfolio if you make your money teaching at photo workshops.
Which brings us back to the website.
My company builds websites for photographers, so I'm not a disinterested party. But let me try to explain the relevance and advantage of having a website whether you're a photographer, restaurant or any other business.
Discoverability & SEO
Here's a test: Try to find a product photographer in your city on Instagram. Or try to find an article about a photojournalist in Syria you once saw on Facebook. While social media excels at compressing six degrees of separation, it's awful for discovery. Instagram allows you to search by hashtags, but not multiple hashtags.
The hashtag itself was invented in 2007 as a taxonomical device—inventor Chris Messina proposed it to help categorize content on Twitter—not as a search mechanism.
As implemented on Instagram, hashtags only perform literal searches. Misspellings and synonyms aren't automatically searched. Content—both images and hashtags—that doesn't meet Instagram's terms and conditions are filtered. There's no provision to filter by time or location (that's a separate search).
On the other hand, internet search engines like Google have had 20 years of perfecting natural language search (e.g. "who is the best wedding photographer in Park City?") along with filtering tools that increase the value of search results. Internet search engines are designed to scour and index all kinds of content. Social media apps lock you into walled ecosystems.
To be clear, the point of website SEO isn't solely for people to search for your name and find your website. The value of SEO lies in is ability to drive traffic to your website with non-branded terms (e.g. Ventura architecture photographer), and this only happens when you have relevant copy on your website and you engage in link building.
Algorithm
SEO is based on an algorithm, as is the Facebook newsfeed. But photographers spent time (and sometimes money) building up followers on their Facebook business pages, only to find that their customers were no longer seeing their content after various algorithmic changes on Facebook.
Both Instagram and Twitter have conducted massive purges of suspected bot followers. And Instagram has been actively testing the hiding of likes. Both changes can be plausibly argued as improving customer quality, but it still renders the account owner as powerless to material changes.
Google SEO changes have affected traffic to websites in the past, but they don't alter your customer email list or on-site conversion that you've built over time. On social media platforms, you are a customer and your "customers" are a by-product of the networking tools. But on your website, you own your customers. No algorithm can change your ability to communicate with them.
Brand Control
Instagram and Facebook give extremely limited control for photographers to brand their presence on those platforms. The inclusion of a logo as a profile photo could hardly be seen as branding. A website, by contrast, allows photographers to choose from a sea of templates or develop your own look and feel. Large photos, small photos, persistent captions, color schemes, typography choices—they all play into a photographer's brand.
Enabling specific e-commerce choices is also an extension of brand. A few years ago, many cafés started using iPad-based Square payment processing. It became a "thing" that separates old school cash/swipe-based businesses from more contemporary counterparts that supported NFC-based payment (e.g. Apple Pay and Google Pay from your phone), emailed receipts, etc.
On a personal website, photographers aren't beholden to design changes of a platform. No sudden color scheme shifts, no overnight layout changes.
Conversion
The ultimate goal of any marketer is "conversion," which typically means a sale. But it can also mean collecting an email for a newsletter or getting someone to refer your business. A photographer website can support many different forms of conversion (e.g. online print sales, stock licensing, email collection) plus a variety of rich analytical packages that can improve your marketing decisions.
By contrast social media severely restricts how you can interact with YOUR clients, and sets arbitrary thresholds for accessing specific tools (e.g. Instagram's "swipe up" feature requires 10k+ followers). Thus, we're forced to use blunt solutions like "link in bio" or pay a fee for enabling online sales.
Workflow & Tools
As an aside to the marketing and control arguments, websites and their workflow tools allow photographers to manage their business of photography. For example, services like PhotoShelter provide cloud-based storage (that can handle your JPGs, PSDs, and RAW files), client distribution tools, and online sales.
With the right tool, a website is more than a marketing extension, it's a business tool.
Websites are Useless Without Content
Having a website isn't a marketing panacea. Maintaining a branded, online "brochure" is great for people who know your domain, but without strong textual content and regular updates, a website won't drive traffic or conversion. And one could argue that a grossly outdated website could even have adverse effects on a business.
Do you need a photography website in 2019? If nothing else, maintaining your own website mitigates risk that a platform change will short circuit your ability to reach your customers, and for professional photographers, maintaining a website is a small price to pay.
---
About the author: Allen Murabayashi is the Chairman and co-founder of PhotoShelter, which regularly publishes resources for photographers. The opinions expressed in this article are solely those of the author. Allen is a graduate of Yale University, and flosses daily. This article was also published here.
Google Fails Bias Test (Again) On Mass Shootings - National Legal and Policy Center
Posted: 13 Aug 2019 06:49 AM PDT
The horrible dual mass shootings in El Paso, Texas and Dayton, Ohio two weeks ago provided another opportunity for Google to demonstrate some balance in delivering evenhanded results for users who searched for news about the incidents.
But the Silicon Valley giant failed again.
According to an audit conducted by the nonpartisan media watchdog group AllSides, the dominant search engine on the Internet dispensed articles about the massacres that favored liberal sources over conservative – and also over more balanced sources – by a vast margin.
AllSides – which exists to provide its readers information from all sources while also identifying the worldview of those sources – evaluated 522 shooting-related articles from Google's "Top Stories" section during the three days that followed the events. The results showed a whopping 70 percent of articles from "Lean Left" or "Left" sources, with only 4 percent produced from "Lean Right" or "Right" publishers. Eighteen percent were from sources that AllSides characterizes as "Center" (but some of those can be viewed as leaning left also).
The study found that almost half the results – 46 percent – were drawn from just three sites on the liberal side of the spectrum: CNN (25 percent), the New York Times (14 percent), and the Washington Post (7 percent).
"Outlets with a Center bias rating were outpaced by Left or Lean Left articles by close to 400 percent," AllSides reported. "Outlets with Lean Right or Right ratings appeared only 19 times over three days, and all 19 were for the most general search query, 'Trump.'"
AllSides considers BBC, NPR, USA Today and Wall Street Journal as "balanced," but most media-savvy conservatives view them as left leaning (although the Journal's opinion page leans right). That tells you which way the "nonpartisan" organization slants, but it also tells you their damning analysis of Google could have been even worse for conservative news organizations. The report found that the "balanced" media outlets as well as "the entirety of the right-leaning media spectrum — got close to no 'Top Stories' exposure for any of the queries searched" about the two shootings.
The results further confirm a longstanding practice by Google, despite claims to the contrary. While the company may not always "manually intervene on any particular search result," as CEO Sundar Pichai testified before Congress in December, its algorithms have clearly been trained to favor the elite liberal legacy media (Whistleblowers have alleged Google does manually intervene as well).
Other studies in the past corroborate AllSides's findings. An extensive analysis in November 2017 by the Computational Journalism Lab at Northwestern University, which reviewed thousands of news links, found that only 20 news organizations' sites were represented in more than half of Google's "Top Stories." The researchers found that 62.4 percent of "Top Stories" results were from left-leaning sites, and 11.3 percent were from right-leaning sites (26.3 percent had no identified political leaning based on another study).
The same study also found that CNN received nearly 11 percent of impressions in "Top Stories," the New York Times 6.5 percent, and the Washington Post 5.6 percent – collectively accounting for 23 percent of the best outcomes a news organization can hope for from Google.
In other findings, during the 2016 campaign research psychologist Robert Epstein confirmed earlier conclusions revealed in a viral YouTube video that showed Google's auto-complete search function (when you start typing and Google recommends various search terms) offered only positive suggestions when beginning a search on "Hillary Clinton," but no negative ones. Google-owned YouTube has now censored that video.
PJ Media conducted a similar Google News search project focused on the term "Trump," and found that 96 percent of the results were from liberal outlets.
Then there were the documents given to the conservative Daily Caller that showed the Google maintains a manually controlled blacklist against conservative websites, which determines how and where their content appears in search results.
Even recently there has been fresh evidence of anti-conservative bias by Google and its employees. PragerU, a video education organization led by conservative talk host Dennis Prager, said its most recent project exposing the "Charlottesville lie" – about whether President Trump actually called neo-Nazis "very fine people" in the 2017 protests – has been restricted by YouTube. PragerU has been in litigation against Google over censorship and discrimination for years now.
Whistleblowers have also exposed the ideological slant behind the scenes at the headquarters in Mountain View, Calif. Last week Breitbart reported a leaked discussion between staffers who celebrated Google's decision not to sponsor the annual Conservative Political Action Conference, which one employee characterized as a "circus platform for hate."
And in a video recorded undercover by Project Veritas that was released in June, a top Google official admitted the company was "training our algorithms" for 2020 to avoid a similar election fate as 2016 – that is, Donald Trump's victory. That sentiment is further confirmed by the fact that Google employees gave $355,693 to Democrat candidates during the first half of 2019, and only donated $5,600 for Trump's reelection, according to Recode.
The AllSides study on the coverage of the massacres criticizes Google's "algorithmic bias" and how it "impacts individual news stories on a daily basis." The search engine's trained prejudice leads to what AllSides calls "filter bubbles," in which readers are "only exposed to news that confirms his or her beliefs."
"It is bad for democracy when multiple viewpoints are hard to find," AllSides concluded. "At its best, news media presents all sides of an issue so that people can decide what they think for themselves. This helps people to appreciate diverse perspectives and those who have different views, creating a more tolerant and well-informed public."